Also Treat Your Hair from Within
5 of the best known herbal extracts!
Herbal Glo hair supplement. The Herbal Glo SEE MORE HAIR system consists of 4 parts, the most important being the Scalp Formula, which is applied to the scalp and left on for at least 6 to 8 hours, preferably at night. The shampoo & conditioner help to synergistically increase the results. But you also need to treat the hair from the inside. That is why we created the Herbal Glo hair supplement, which consists of the best known herbal extracts known to help hair grow.
Silica: One of the best herbs to help encoirage healthy hair growth. It stimulates hair cell metabolism and acts as a strengthener of connective tissue.
Fo-Ti: For centuries the Chinese have known of a natural formula and its ability to not only grow back lost hair but to restore grey hair to its natural colour. This time-tested 100% natural hair nutrient is derived from the Chinese herb "He Show Wu", also known as Fo-Ti
Stinging Nettle: A powerful plant extract which stimulates blood circulation, improving the blood supplyto the hair follicle which, in turn, increases the potential for new hair growth.
Kelp: Is a seaweed which is dried and ground into powder. It is rich in vitamins and minerals, especially iodine. Iodine is considered to be one of the best agents for strong hair growth.
Saw Palmetto. Is an excellent blood purifier that specifically assists the body to eplace the nutritional reserves used by the body following periods of stress. Recent scientific studies show that Saw Palmetto nutritionally promotes the inhibibition of the enzyme 5-alpha-reductase. Studies now suggest that inhibiting 5-alpha reductase is important. This is because of its ability to convert testosterone to DHT (Dihydrotestosterone). Reseach indicates that men with hair loss have an increased conecntration of reductase and increases activity of DHT. Reducing DHT can reduce hair loss and nutritionally promote health hair growth.
[table id=10 /]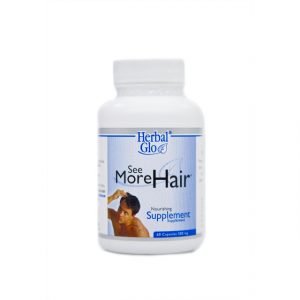 $

19.95
A complete and unique blend of herbal extracts to help strengthen the hair from within. Each capsule is a perfectly balanced ratio of the best-known herbal extracts. Contains no artificial preservatives, color, flavor, sugar, starch, soy, wheat, dairy or yeast. Helps reduce the signs of hair loss, thinning hair and weak hair.
Add to cart