Out of the jungles of Africa comes a new remedy for damaged hair
Amazing breakthrough in Hair Repair: Sensational world acclaim for new wonder. African botanicals now used in Herbal Glo products. 
PHARMACISTS DEVELOP NEW TREATMENT FOR DAMAGED HAIR
There's a new preparation for conditioning the hair that represents something of a breakthrough in research. The discovery of an African botanical has enabled Herbal Glo to produce a DEEP hair conditioner that when absorbed into the hair damaged by over-bleaching or perming, or too much exposure to the sun or water, can give new luster, body, and strength.
On absorption the substance tends to fill voids in the hair shaft resulting in better light reflectivity and greater flexibility to the hair strand. The highlights of the hair and the manageability is given a new lease of life.
For those encountering trouble with hair that is showing the visible signs of reacting to extremes, the preparation offers a fast means of an instant recovery.
But it can be used as a preventative as well. Normal healthy hair can benefit from the protection offered by these African botanicals.
Hair that had been damaged from over-perming, over-bleaching, that looked tired, brittle, and without body developed a look of health, luster, and manageability.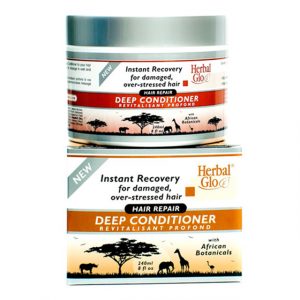 $

24.95
Severely damaged hair has holes in every strand.  Now in just 2 minutes, this Herbal Glo African Hair Repair Deep Conditioner penetrates to fill in the holes while it repairs damaged hair.  Your hair will again feel smooth and silky.  an ideal Treatment for hair that is dry, damaged, brittle, coarse, permed, color treated, frizzy with split ends and sun damaged. Repairs damage caused by blow drying.
Add to cart