FEELS LIKE A FACELIFT just changed to this NEW FRESH LOOK.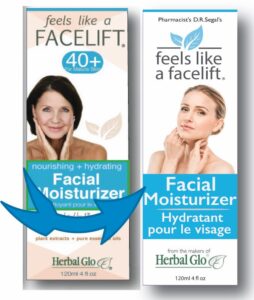 SMOOTHS OUT AGING SKIN, JUST LIKE A FACELIFT!
Right now we are offering a special discount of 20% off of any of our Feels Like A Facelift products. Orders over $50 will receive free shipping and will be delivered straight to your door!
Looking for our Feels Like A Facelift 40+?
Be sure to visit our clearance section!
$

24.95
Creates an instant thick foam
Purifies as it gently cleanses away dirt, grime & impurities
Gently removes make-up without clogging the skin
Neutralizes free radicals before they can damage surface skin.
Built in skin toner
Removes pollutants and any residue left on the skin.
A Pharmacist's accidental discovery of a tribal mixture helps defy the signs of aging. Pharmacist Lou Segal, while on a safari in South Africa, stumbled upon a particular tribe that had  young looking skin. The secret was in the mixture of plants, roots & leaves which they applied to their faces as part of their daily rituals. Pharmacist Darryl Segal, together with his father has been able enhance this ageless botanical gift from mother earth to help rejuvenate healthy looking hair. No harmful chemicals. No parabens, formaldehyde, SLS, phthalates, salt/sodium chloride, artificial colouring. Vegan & gluten free pH Balanced no animal ingredients Not tested in animals. Manufactured in beautiful Vancouver, British Columbia.
Add to cart