FEELS LIKE A FACELIFT just changed to this NEW FRESH LOOK.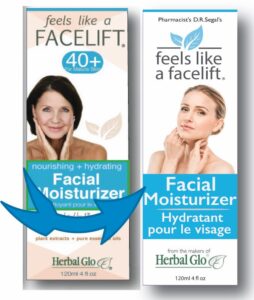 If not at London Drugs, BUY NOW and get 20% off
SMOOTHS OUT AGING SKIN, JUST LIKE A FACELIFT!
$

34.95
Younger looking skin after just 12 minutes
This new mud masque contains CANADIAN GLACIAL MUD from Pacific Northwest coast in Northern British Columbia.
Rich in minerals such as Silicon, Aluminum, Iron, Magnesium and much more.
So natural the mud could be used right out of the ground.
The clay attracts positively charged bacteria so it detoxifies the skin.
Effective in removing dead skin cells as well as old make-up from pores.
This natural miracle masque will clean, exfoliate, detoxify, rejuvenate, revitalize to soften and smooth out lines and deep wrinkles.
Works on all types of skin including normal, oily, dry and even sensitive troubled skin.
You will see results after the very first application.
Add to cart