What is Dandruff?
Dandruff is an exceptionally common scalp condition characterized by flaking and scaling. Intermittent episodes of fine, dry, white flaking and mild itching are the hallmarks of dandruff. Contrary to popular belief, regular washing of the scalp and hair actually results in improvement of the dryness and scaling.
There are two types of Scalp Dandruff:
A) Pityriasis-capitis: The simple kind consisting of white dry flakes falling from the scalp. The result is due the rate at which the scalp sheds its dry skin cells, which in turn depends on the health and diet of the individual stress, too seems to be related.
Pityriasis-capitis dandruff can be controlled by:
Paying more attention to health and hygiene
Consuming more fresh fruits in your diet
Drinking plenty of water
Use shampoo with Tea Tree Oil, Neem Oil, Salicylic Acid, Aloe Vera
Rinsing the hair carefully after shampooing
Brushing gently to rid hair of trapped cells
Lightly massaging the scalp to dislodge the dandruff flakes
If a simple routine like this does not work, consult a dermatologist on the use of anti-dandruff shampoo, which might slow down the rate at which the cells are shed from the scalp.
B) Seborrhoeic Dermatitis:  If the scalp is very greasy, an individual might end up with this type of dandruff, which is thick, oily, scaly, crusted and weeping. This condition almost always needs medical care and attention, but if it is mild you can treat it at home by using an anti-dandruff shampoo. The best remedy however is to wash hair regularly with a shampoo containing Zinc Lactate. Consult a dermatologist if the problem is severe or persists.
Tips on Managing Dandruff
Although there is no known cure for dandruff, however there are things, which can help to effectively relieve and control damaged and dry hair, as well as help prevent recurrences.
Restore the health of the scalp by bringing about a positive change in your diet and living habits.
Light oil massage can help to dislodge the existing dandruff flakes. Massage the scalp carefully.The fingertips should be used to move the skin on the scalp in small circulatory motions. Keep your scalp very clean. This can be achieved by washing hair twice a week with liquid shampoos.
Dandruff can be infectious. Keep your belongings clean and separate to eliminate the chances of infection. Whenever you wash your hair, soak your hairbrushes and combs in hot water containing antiseptic lotion.
Bring about a positive modification to your lifestyle, to eliminate stress and overcome dietary deficiencies.
The best-known ingredients to help remove dandruff flakes and moisturize dry scalp are Zinc Lactate, Salicylic Acid, Sage Leaf Extract, Birch Barch Extract, Aloe Vera Extract and Panthenol (Vitamin B5).
Herbal Glo Advanced Formula for Dandruff Control
Herbal Glo's healthy hair and scalp formulations are created using powerful, natural botanical extracts alongside mainstream medical solutions to effectively combat the flaking and itching of dandruff. The Advanced Formula helps to remove dandruff flakes and moisturizes dry scalps. The formula is enriched with Zinc Pyrithione, Salicylic Acid Sage Leaf Extract, Birch Bark Extract, Aloe Vera Extract, Panthenol (vitamin B5) and Rooibos. It gently cleanses and moisturizes the scalp, preventing irritation and leaving the hair and scalp feeling soft and healthy.
Two key ingredients of the Advanced Formula, Salicylic Acid and Zinc Lactate, are discussed in more depth later. The full ingredients lists are as follows:
Advanced Formula Dandruff and Dry Scalp Control Shampoo
[table id=5 /]
Advanced Formula Dandruff & Dry Scalp Control Conditioner
[table id=7 /]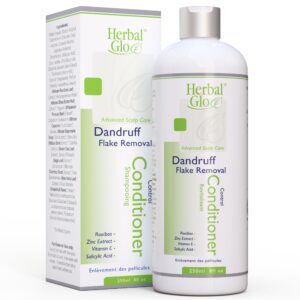 $

14.95
Herbal Glo Advanced Dandruff Control Conditioner Helps remove dandruff flakes and moisturizes dry scalp.  It gently cleans and moisturizes the scalp, and preventing irritation.  It leaves the hair and scalp feeling soft and healthy.
Add to cart