More from Pharmacist Darryl Segal about Hair Loss
To understand your hair loss situation, it is important to know a little about the life cycle of hair. 
Hair grows in cycles and phases. The first growing stage is called the Anagen Phase, where the hair grows, usually from 2 to 6 years.
Then it goes through a resting phase, then a period of up to 6 months where it enters the falling out stage. At any given time, about 10 to 15% of the hairs on your scalp are in the falling out stage. That is why it is normal to experience hair loss every day.
It is when we notice a higher amount of hair loss, that the percentage of hairs falling out increase dramatically. At that point, something needs to be done.
My formulations work fantastically at these times.
Scalp Formula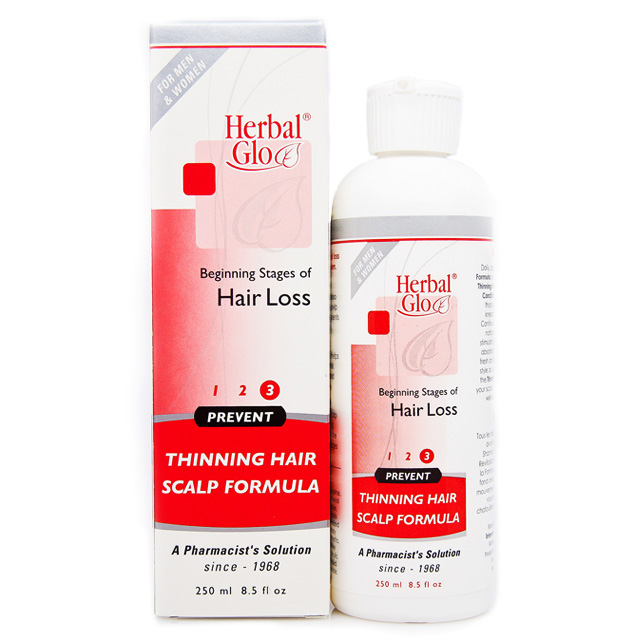 Our Scalp Formula is the key to the program, the most important step. Apply the Scalp Formula preferably at night before retiring.
Take a small amount (usually about 5ml), depending on the extent of the thinning hair, and apply this to the scalp. Use the nozzle on the cap and apply it directly to the scalp, massage it between the fingers, and rub it in.
It is important to follow the proper scalp massage technique. Do not rub the scalp but keep your finger pads in one spot and move the scalp around. Like kneading some dough.
You should experience a tingling sensation, a cooling of the scalp. This only last a few seconds and goes away. After about 20 seconds it dries and the active ingredients remain on the scalp to do its work. The reason why we feel the best results come at night is because the body is resting and you have enough hours for proper absorption.
The other good time is in the morning, after you wash your hair with the Shampoo and Conditioner and towel dry. Apply the scalp formula to the dry hair as usual.
17 herbal botanical extracts
All my formulas contain a blend of 17 herbal botanical extracts. In fact my father used to call it the K17 Beauty Extract, as it was after so many tries that he perfected this combination.
The aqueous-infusion was a blend of Aspalathus Linearis (African Rooibos) Leaf Extract*, Butyrosperumum Parkll (African Shea Butter) Fruit Nut Extract, Pygeum (Prunus Africanum) Bark Extract, , Capsicum Frutescens (African Cayenne) Fruit Extract, Quillaja (African Saponaria Soap) Bark Extract, , Serenoa Serrulata (Saw Palmetto) Fruit Extract,  , Matricaria Recutita (Chamomille) Flower Extract*, Salix Alba (Willow) Bark Extract*, Camellia Oleifera (Green Tea) Leaf Extract*, Ginko Biloba (Ginko) Leaf Extract*, Rosemarinus Officinalis (Rosemary) Leaf Extract*,  Equisetum Hiremale (Horsetail) Plant Extract*, Urtica Dioica (Nettle) Root Extract*, Salvia Officinalis (Sage) Leaf Extract* Symphytum Officinalis (Comfrey) Root Extract*,  Aloe Barbadensis (Aloe Vera) Leaf Extract, , Citrus Grandis (Grapefruit) Seed Extract*.
I am happy to say that we have many of these now in Certified Organic. (*).
Then use the Shampoo & Conditioner whenever you wash your hair. Try not to use any other shampoo or conditioner. My shampoo and conditioner is designed to work synergistically with the scalp formula. The shampoo helps get rid of any build up, cleanses the hair follicle ,and gets it ready for the nurturing affects of the Scalp Formula.  The Conditioner helps to strengthen the hair even more as well adding moisture and shine.
Diet Matters
I encourage people to take a careful look at their diet and how much protein and vitamins are being consumed. I have created a hair supplement with the 5 best herbs known to help encourage a healthy full head of hair including Silica, Nettle, Kelp, He Shou Wu, and Saw Palmetto.
Dandruff and Psoriasis
About 20% of people suffer from Psoriasis. They usually have been diagnosed by a doctor and have tried all the prescription creams.
Our shampoo & conditioner for Dandruff is enriched with Zinc Pyrithione to get rid of Dandruff after just one or two applications.
Our special shampoo & conditioner has Tea Tree Oil to help reduce the symptoms of Psoriasis and Itchy Scalp.
Our formulas are excellent for men as well as women. Hair follicles are hair follicles…and they exist in both men and women. Men have what is know as male pattern baldness, whereas women have what is known as 'women pattern baldness".
With me there is that typical horseshoe shape, with women it is more diffuse hair loss, a general thinning of he hair all over the scalp. With today's perming and brushing, women can hide their hair loss more.
I also love the results Panthenol which is Vitamin B5 gives the hair. It helps thicken the hair shaft and add incredible strength to hair. Also Wheat Protein is so affective in helping repair any kind of hair damage. People who have hair loss are found to be deficient in B complex and that is why I have incorporated things like Biotin and Inositol.
Everybody gets results with my formulas. Some are more dramatic than others. Results all depend on a number of factors. The best results come from people who started using the program within 2 to 5 years of hair loss.
So the sooner you begin using the program, the sooner you will see results.
Please leave a comment below with any questions, suggestions or ideas. Or if you want any advice with regard to your particular hair problem, please feel free to write me an email. 
About Author
Comments are closed