What is Psoriasis?
Psoriasis is a non-contagious skin disorder, which affects millions of men and women of all ages. Most commonly, the skin forms scaly, reddish patches, which are often unsightly and are frequently irritating, itchy and painful. Psoriasis may be caused by stress, a major infection, or a minor skin injury such as a burn or cut. Although there is no known cure for psoriasis, it is possible to relieve the symptoms.
Two key ingredients of the Advanced Formula are Tea Tree Oil and Neem Oil, which are discussed in more depth later. The full ingredients lists are as follows:
Herbal Glo Advanced Formula Psoriasis & Itchy Scalp Relief Shampoo
[table id=8 /]
Herbal Glo Advanced Formula Psoriasis & Itchy Scalp Conditioner
[table id=9 /]
Neem Oil
Neem oil is probably the best product currently available for treating psoriasis. It moisturizes and protects the skin while it helps heal the lesions, scaling and irritation. Experiments and reports from patients with psoriasis have shown taking Neem leaf orally combined with topical treatment with Neem extracts and Neem seed oil appear to be at least as effective as coal tar and cortisone in treating psoriasis.
Goutam Brahmachari 'Neem

 

– An Omnipotent Plant: A Retrospection'
Neem (Azadirachta indica A. Juss.) has universally been accepted as a wonder tree because of its diverse utility. Multidirectional therapeutic uses of Neem have been known in India since the Vedic times. Besides its therapeutic efficacies, Neem has already established its potential as a source of naturally occurring insecticide. Systematic scientific knowledge on Neem reported so far is thus very useful for the wider interests of the dermatological community.
Tea Tree Oil
Tea tree has a long history of traditional use. Australian aboriginals used tea tree leaves for healing skin cuts, burns, and infections by crushing the leaves and applying them to the affected area.
Tea tree oil contains terpenoids, which have antiseptic and anti-fungal activity. The compound terpinen-4-ol is the most abundant and is thought to be responsible for most of tea tree oil's anti-microbial activity. Tea Tree Oil is widely used in the treatment of:
Psoriasis
Eczema
Dandruff
Acne
Athlete's foot
Boils
Lice
Yeast infection
Used as an antiseptic
Shelley F. Walton, PhD 'Acaricidal Activity of

Melaleuca alternifolia

(Tea Tree) Oil
Tea tree oil is a membrane-active biocide extracted from the tree M alternifolia.  It is a principal antimicrobial in a wide range of pharmaceuticals sold in Australia and world wide, with the main active component being oxygenated terpenoids. The results suggest that Tee Tree Oil has a potential role as a new topical acaricide and confirm terpinen-4-ol as the primary active component.
Rubel DM, Freeman S, Southwell IA. Report of three cases of tea tree oil allergy and review of the literature.
Tea tree oil is currently enjoying popularity as a 'cure-all' for a variety of skin conditions, from infections to psoriasis, and many household and personal products containing Melaleuca oil are available. However, despite its chemical complexities and enthusiastic use, there have been only a few reports of allergic reactions to tea tree oil. At the Skin and Cancer Foundation (Sydney, NSW, Australia), three of 28 normal volunteers tested strongly positive to patch testing with tea tree oil. Following further patch testing with tea tree oil constituents, all three patients reacted strongly to two preparations containing sesquiterpenoid fractions of the oil. A single-blind study examined the use of 5% tea tree oil shampoo or placebo in 126 people with mild to moderate dandruff. After 4 weeks, the tea tree oil shampoo significantly reduced symptoms of dandruff.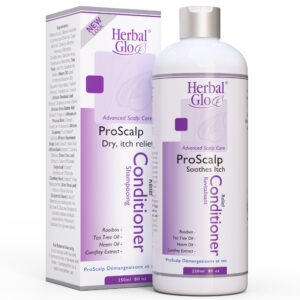 $

14.95
Herbal Glo Advanced ProScalp & Itchy Scalp Conditioner helps relieve the symptoms of Psoriasis, flaking and itchy scalp.  It is specially formulated to help correct an itchy, flaky scalp and to condition the hair.  It helps maintain the healthy looking scalp left by the Herbal Glo Advanced Formula for Psoriasis Shampoo.
Add to cart