All about Herbal Glo Skin Therapy Oil
Skin Therapy Oil is a major triumph in helping clear away blemishes, rough, dry, itchy skin, scars, uneven skin tones, stretch marks, sun damaged skin and wrinkles.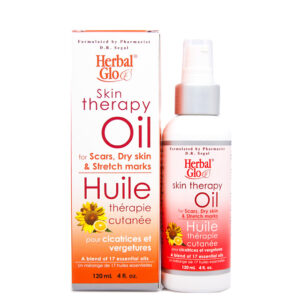 In Africa, our oil is long known as folklore medicine by local inhabitants. Their 'medicine doctors' pressed the oils from the seeds of indigenous trees and plants, and used this to treat many of their patients skin ailments.
This was so effective it was regarded as a MIRACLE OIL. It was so highly valued that by giving it to someone as a gift represented the greatest mark of friendship.
The excellent source of skin nutrients are derived from an outstanding combination of 17 ancient skin-healing oils that offer unrivaled protective and regenerative properties.
Sourced from Africa and around the world, these oils are naturally rich in beneficial fatty acids, vitamins as well as high in antioxidants.
Herbal Glo has combined these oils to create the most sought-after SKIN THERAPY OIL. It's suitable for all skin types and can be used on face and body. Contains no preservatives or harsh chemicals.
| The 17 Oils | The Many Benefits |
| --- | --- |
| Marula | Contains linoleic acid and flavanoids as well as antioxidant and anti-aging properties |
| Rosehip | Reduces aging wrinkles and sun damaged skin. |
| Neroli | Skin healing, collagen regeneration for stretch marks and scar tissues |
| Shea | Reduces appearance of scars and stretch marks. Improves skin suppleness |
| Avocado | Relieves itchy skin reduces age spots restores uneven skin tones |
| Tamanu | Diminishes unsightly stretch marks for smooth radiant skin |
| Baobab | Regenerates skin cells, improves skin tone and is an excellent skin softener |
| Wheat germ | High in Vitamin E natural antioxidant promotes new skin cells and improves circulation |
| Grape seed | Anti aging for skin and smoothes away dryness |
| Argan | Calms inflamed skin and reduces appearance of scars and blemishes |
| Sunflower | Adds softness & improves skin texture |
| Almond | Lubricates and helps promotes younger looking skin |
| Calendula | Helps reduce appearance of scars and stretch marks |
| Aloe Vera | Softens the skin and hydrates the skin leaving it smooth and silky |
| Coconut | Age rejuvenating and improves the look of rough looking skin |
| Jojoba | Great emollient with skin softening properties |
| Orange | Pulls moisture deep into the skin cells |
Scars, Dry Skin & Uneven Skin Tones
Apply the SKIN THERAPY OIL to affected areas and massage in gently until absorbed. Use for a minimum of 3 months
Pregnancy & Stretch Marks
Helps to reduce the possibility of stretch marks forming during periods of rapid changes in the body size such as weight loss/gain and pregnancy. Gently massage SKIN THERAPY OIL into the breasts, abdomen, hips, and lower back and upper thighs twice daily. CAUTION: Do not apply to nipple or breast before breast feeding.
Aging, Dehydrated Skin & Wrinkles
Helps smooth and tone aging, sagging and cracked skin in both the face & body. Ideal for use after bathing, showering, swimming and sun-tanning. Apply the Oil twice daily, massaging quickly in a circular motion until fully absorbed.
NOTE:
Hypoallergenic

Do not use on broken skin

Discontinue use if in the unlikely event of skin irritation

Contains no preservatives

Easily absorbed

Individual results may vary
WITNESS A MIRACLE for your skin when you use this Therapy Oil with 17 skin healing oils!
About Author
Comments are closed